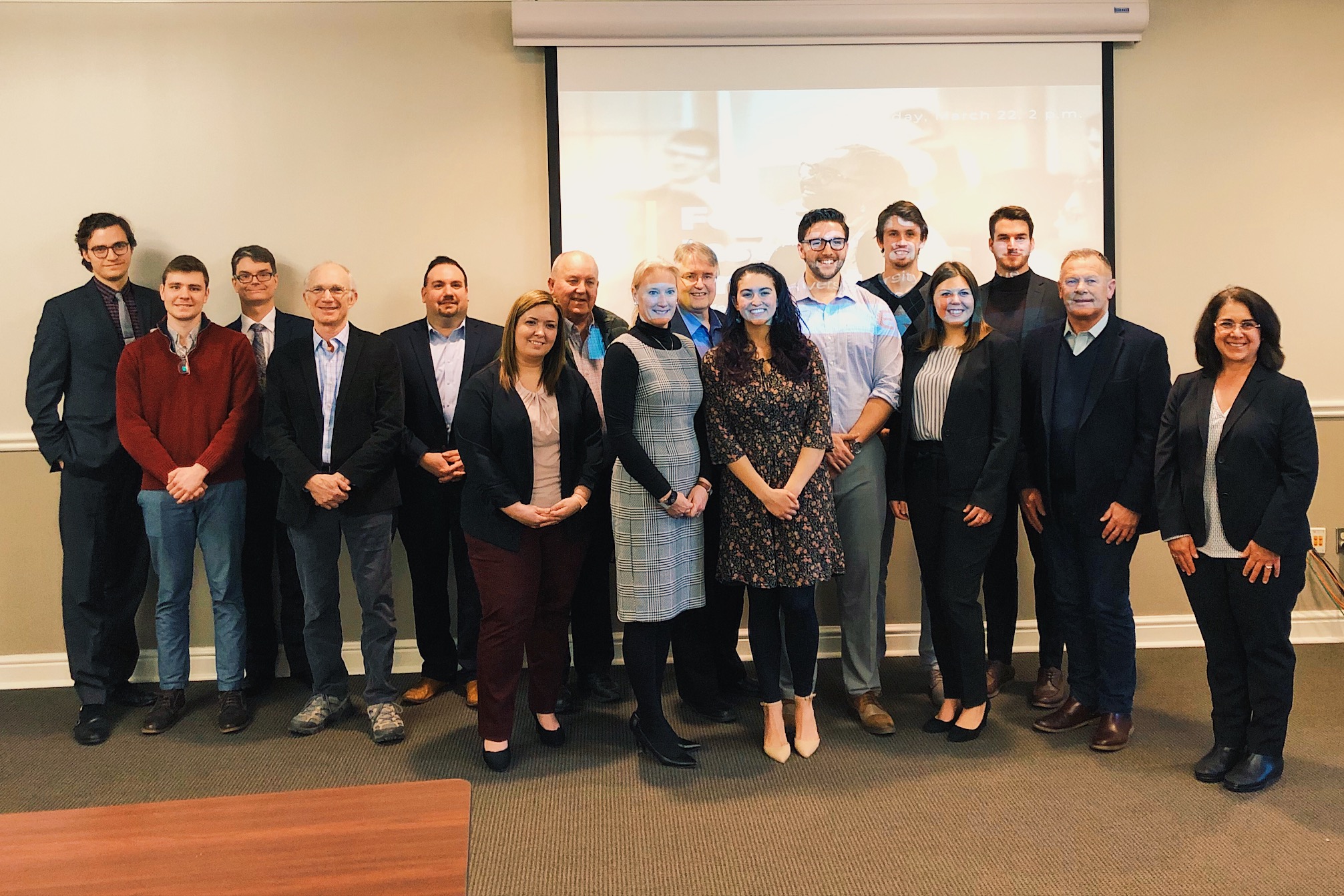 Waynesburg University (WU) and Carnegie Mellon University (CMU) recently co-sponsored a micro course, "Seeding Societal Futures: Solutions for Food Insecurity for Rural and Small Communities," that culminated with student presentations on the main campus of Waynesburg University Friday, March 22.
Students from both universities met during two Saturday classes in February. The first class was held at WU and included background research around the issue; students also conducted site visits at various partner agencies throughout Greene County. The second class, held at CMU, focused on organizing real solutions to the problems discovered during the research phase and site visits.
The partner agencies included Blueprints, the Corner Cupboard Food Bank, Gateway Senior Housing, the Greater Pittsburgh Community Food Bank, the Greene County Food Security Partnership, Greene County Human Services, Somerset County Mobile Food Bank, St. Ann's Church Soup Kitchen, Traffic 21 Institute (at CMU) and West Greene School District.
During the March 22 presentations, the five student groups offered their short-term and long-term solutions to the problems they researched. In attendance were members of the partner agencies; the Greene County Commissioners, Blair Zimmerman (chair), Dave Coder and Archie Trader; and special guests from other related community agencies.
"This micro course was such an incredible opportunity to strengthen community partnerships, not only with organizations, but with community members," shared Briana Armenia, a sophomore sociology and service leadership major at WU. "I hope to see at least one of these solutions implemented in the community, such as the road map or GPS model, in order to better serve people in food deserts."
Paul Berg, a senior entrepreneurship major at WU, shared his excitement about a project that includes a mobile food unit, called the Greene Machine, managed by WU students.
"I hope to see the Greene Machine evolve into a legitimate program at Waynesburg," he said.
The instructors included Janice Crile, director of graduate programs in business administration at WU; Leah Lizarondo, CEO and co-founder of 412 Food Rescue; Jackie Speedy, associate dean of CMU's School of Public Policy and Management; Rick Stafford, distinguished service professor of public policy at CMU; and Melinda Walls, chair of the W. Robert Stover Entrepreneurial Leadership Program at WU.
"We hope that this is the first step in a long, continuing relationship between two universities that work together to solve real problems in our communities," said Walls.
The Chevron Center for Corporate Social Responsibility at Waynesburg University will host a corporate volunteer day Thursday, April 11, and will strategically assign volunteers to work on projects that have the potential to positively impact some of the needs identified by the initial data from the micro course.
The course was sponsored by the EQT Foundation and Aladdin Food Management Services.