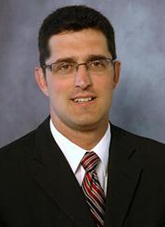 Waynesburg University will host Terry Wiltrout, president of Washington Health System Greene and vice president of operations at Washington Health System, as a guest speaker for the Glenn A. and Jane L. Crosby Lecture Series. The lecture will take place Thursday, Sept. 20, at 7 p.m. in the Goodwin Performing Arts Center. Admission is free, and the public is cordially invited to attend.
"We are honored to welcome such a distinguished local professional to Waynesburg University's campus," said Provost Dr. Dana Cook Baer. "In his roles at Washington Health System, Terry Wiltrout has a significant impact on our communities and the well-being of those who live in our region. He represents well the vision of the Crosby Lecture program."
During Wiltrout's lecture, "Challenges Facing Community Hospitals," he will discuss common issues confronting community hospitals, including those affecting the hospital in Waynesburg, such as technology demands, low patient volumes, competition and other challenges.
"Community hospitals all over the United States have a multitude of challenges they face on a daily basis," said Wiltrout.
Wiltrout has worked in health care administration for 25 years, with experience in strategic planning, organizational growth and integration of hospital service lines. At Washington Health System, Wiltrout coordinates projects to expand the hospital's market and bring in new business.
Wiltrout is a 2009 graduate of Waynesburg's Master of Business Administration program, specializing in health systems administration. In addition to his work for the Washington Health System, Wiltrout is active on several community boards.
The lectureship hosting Wiltrout, funded by 1950 magna cum laude graduates of Waynesburg University, Glenn A. and Jane Lichtenfels Crosby, brings to the University visiting scholars who are distinguished in their disciplines.
For more information, contact Genna Steele at gsteele@waynesburg.edu or call 724-852-7660.
Founded in 1849 by the Cumberland Presbyterian Church, Waynesburg University is located on a traditional campus in the hills of southwestern Pennsylvania, with three additional sites located in the Pittsburgh region. The University is one of only 21 Bonner Scholar schools in the country, offering local, regional and international opportunities to touch the lives of others through service.
# # #
Ashley Wise, Director of University Relations
724-852-7675 or awise@waynesburg.edu